Definition/Description
Adjacent segment disease (ASD) is a spinal disorder that may develop after spinal fusion (eg, instrumentation, bone graft). Although ASD is widely known to be a potential complication of spinal fusion, it can also be caused by natural degenerative changes that occur in the spine due to aging.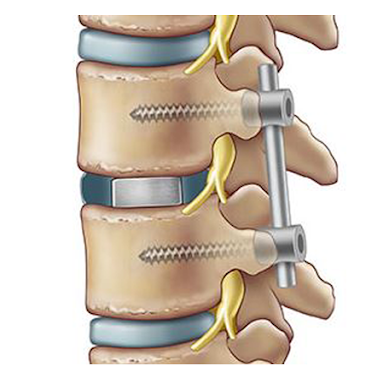 Symptoms/Characteristics
ASD may produce symptoms like those that led you to spine surgery in the first place.
Low back pain
Pain that radiates from your low back down into one or both legs and/or feet
Neurological symptoms (tingling, numbness, or weakness) in your lower extremities
Pain that radiates from your neck down into your shoulders, arms, and/or hands
Pain while walking and/or difficulty standing
Causes
Adjacent segment disease has two main causes.

Ageing: There is a natural degenerative process that takes place in the spine. As we age, the cushioning discs in our spine dry out and the disc space gradually "collapses" and loses its normal height.
Fusion Surgery: Fusing / locking bones together is thought to potentially accelerate degeneration by increasing the stress and motion above and below the fusion level. However, not everyone with a spine fusion develops ASD and not all spine fusions are the same.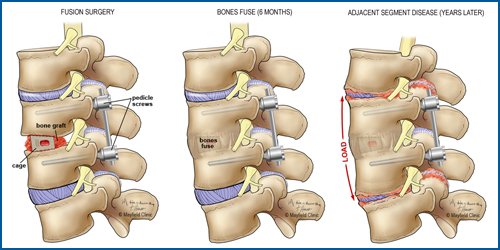 Treatment
Milder forms of ASD that are not causing spinal instability, pain or nerve problems may be treated non-surgically. Physical therapy may help improve body mechanics, and medications and spinal injections can help ease inflammation and pain. Severe cases of ASD—those that compromise the stability of your spine and/or nerve health—may require a second surgery. In most cases this will be another fusion.